Gold Coins for Investment – Why Buy Gold Coins? 
Because Gold Bars and Ingots can be faked…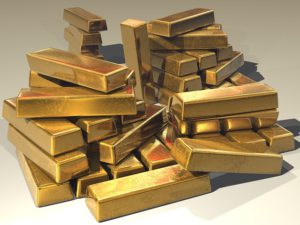 One of the easiest – and safest ways to own gold is to buy 1 ounce gold coins for investment. Coins are issued and backed by the government mints that issue them, bars and ingots are not.
London Good Delivery Gold Bars are investment grade gold bullion bars weighing approximately 400 troy ounces or 12.4 kilograms.  Fake bars are discovered periodically, but not widely publicized to maintain confidence in the industry.  A top-quality fake London Gold Bar would cost about $50,000 to produce because it's got a lot of real gold in it.  Still, there's a nice profit considering that a real 400 oz bar is worth closer to $500,000. Top-of-the-line fake gold bars start with a tungsten slug about 1/8-inch smaller in each dimension than the gold bar.  A layer of real pure gold is then cast all around it completely encasing the tungsten slug.
This bar would feel right in the hand and have a proper dead ring when knocked as gold should.  It would test right chemically and it would weigh almost exactly the right amount, within a few grams.  It would even likely pass an x-ray fluorescence scan.  The layer of pure gold could be enough to stop x-rays from reaching the tungsten core. You'd pretty much have to drill it to find out it's fake.  Lower budget versions are made by using the same under-sized tungsten slug but casting lead-antimony alloy around it.  This is to include manufacturer stamps and to match the hardness, sound, and feel of gold.  The final step is electroplating a heavy coating of gold. Such a bar would still feel and sound right and be only very slightly underweight.  These budget bars cost less than $500 to produce in quantity.
Counterfeit Gold and Silver Bullion Products from China
Manufacturers in China continue counterfeiting genuine bullion products identical to the leading global suppliers. This is a huge worry for makers of legitimate bullion products.  It is a nightmare, however, for the secondary market buyers who are unaware of the bogus products.  More than a half dozen U.S. makers have been targeted repeatedly by counterfeiters.  The knock-offs are offered for sale on individual websites as well as Alibaba.com, an international trade site headquartered in China.  The counterfeit pieces are composed of silver plate over brass or a zinc alloy.  The counterfeit silver bars and rounds are identical in appearance to the genuine bullion products they replicate, including stating the fineness of silver as .999 purity.
Gold Coins for Investment – Best Gold Coins to Buy
One of the easiest – and safest ways to begin investing in gold is to invest in coins.  Gold coins can be purchased directly from the mint – or through an authorized dealer designated by the mint.  If authenticity is your concern, only buy bullion coins offered by the Royal Canadian Mint or the US Mint.  They are recognized worldwide and are backed by the governments that issue them – The USA and Canada.  These coins have little to no numismatic value and instead trade almost entirely on the value that could be received if the gold were melted down and sold at the current spot prices.
American Eagle 1-Ounce Gold Coin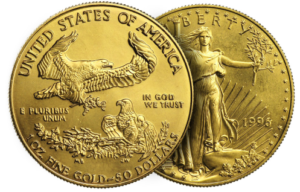 The American Gold Eagle is today one of the most famous gold coins available.  It is instantly recognized anywhere in the world. It's one of two official US Mint bullion coins (along with the Gold Buffalo Coins). These official gold coins date back to 1986. The American Eagle weighs a total of 1 troy ounce of gold in hardened 22-carat gold. Gold American Eagle Coins are alloyed with silver and copper to ensure the strength and rigidity of the soft gold metal. It also offers the gold coin a high level of wear resistance against defects and cuts that are possible with pure gold coins.
Guaranteed by the US Mint
At 91.67% fineness, its 22k alloy contains 3% silver and 5.33% copper, with the U.S. Mint's guarantee of content and purity.  The coin depicts Lady Liberty with an olive branch and a torch in the classic design of Augustus Saint-Gaudens. The name of the coin, however, comes from the design by Miley Busiek on the back, on which a male eagle guards his family. The reverse side of the coin also shows the denomination and weight of the coin. A 1 ounce American Gold Eagle has a face value of $ 50 and states that it is one ounce of fine gold.
Limited Releases
The American Eagle 1 ounce gold coin is issued each year in limited numbers.  Investors have two options – proofs and coins that have never been in circulation. Proofs provide finer details.  Multiple strikes are imparted on a mirrored blank during the minting process. Non-circulation coins are burnished blanks that are manually fed into a coin press and carry the mintmark of West Point. Despite its legal value of $ 50, American Eagle coins contain a full troy ounce of pure gold. Coins are stamped with "1 OZ FINE GOLD" and the actual value follows the gold price from that point forward. If you compare the prices with the FOREX values, buying less than 10 will cost you about 5-6% more than the spot price of gold. If you purchase 20 or more coins at a time, prices will drop to around 3-4% above the spot price of gold.
Best Gold Coins for Investment 
These coins are for many reasons the favorite coin for US investors and collectors. Because these coins are so popular, they are relatively easy to appraise, trade or sell. They are an approved investment vehicle for individual retirement accounts (IRAs). In addition, purchases and sales of American Eagle to the public are exempt from the Internal Revenue Service Form 1099-B reporting requirements. Numismatists love the American Eagles for its beauty and proudly collect different dates.  Bullion investors hold them as guaranteed assets that are perfect against currency challenges or economic crises.
American Buffalo 1 Oz Gold Coin
The American Buffalo was first issued in 2006.  It was a response by the US Mint to Canada's Gold Maple Leaf 1 oz Gold Coin made of 24 carat, 0.9999 fine gold.  The Gold Buffalo is the purest American gold coin.  It is struck in 24 carat, pure gold. Each coin bears the stamp "1 OZ .9999 FINE GOLD" on the back and has a value of $ 50 as legal tender.  Buffalo is still the first coin in US Mint history to have such a stunning gold content.
History and Design – American Buffalo 1 oz Gold Coin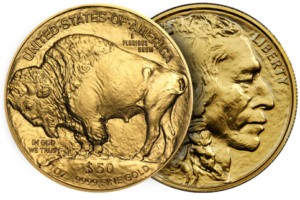 The United States Mint unveiled the American buffalo 1 oz gold coin in 2006.  It uses the historic Buffalo nickel designed by James Earle Fraser.  With a gold purity grade of 0.9999, The American Gold Buffalo was the first US Mint coin to contain 24-carat gold. In 2016, the coin celebrated the 10th anniversary of this coveted bullion.
James Earle Fraser was commissioned by the government of William Howard Taft in 1911 to design a replacement for the Liberty Head US nickel. Black Diamond, was a captive buffalo housed at the New York, Central Park Zoo.  This actual animal was the inspiration for his buffalo design, which can be seen on both the back of Buffalo Nickel and the modern Buffalo Gold 1 oz coin.  The front of the coin shows the profile of an American Indian. The inspiring figures were three real life individuals – Iron Tail of the Sioux Tribe, Big Tree of the Kiowa, and Two Moons of the Cheyenne Tribe.
Mintage Figures – American Gold Buffalo 1 oz Gold Coin
Demand for American Gold Buffalo coins has remained relatively stable since its 2006 introduction. The debut of an American bullion coin with .9999 pure gold led to a rush for the coins in 2006, with 337,012 coins sold. Most years the average sales are around 200,000 in total.  The 22 carat American Gold Eagle remains the most popular American gold coin. In 2014, the US Mint sold 180,500 American Buffaloes to 425,000 American Gold Eagles.
The American Gold Buffalo coin is typically released each year in both bullion and proof.  Gold Buffalo Coins are limited edition proof coins and among the most coveted and sought after products produced by the U.S. Mint. These coins were reintroduced as the first 24-karat gold proof coin ever struck by the U.S. Mint.  American Buffalo Proof Coins are collector versions of the official U.S. Mint American Buffalo Gold Bullion Coins. Each coin is presented in an elegant hardwood box, and is accompanied by a Certificate of Authenticity.
In 2008 fractional-weight coins became available in the buffalo collection. In addition to the 2008-W 1 oz gold coin, the US Mint also released a ½ oz gold buffalo,  1/4 oz gold buffalo, and 1/10 oz gold buffalo coins for collectors.
Prices for American Gold Buffalo 1 oz Gold Coins
Some websites offer prices over $ 50 above the spot price. However, if you buy less than 10, prices start at $ 60 above the spot. For avid collectors, American buffalo coins from 2006, the original year of issue, start at $ 160 over spot for 10 or more. If you want to invest in an American Buffalo Proof 2006, you'll pay the spot price plus $ 575. If you are looking for something interesting, check out the first edition of American Buffalo Gold Coins for 2008. Only 3,000 or so have been minted and – if you can even find one – the price is at least double the gold spot price!
Canadian Maple Leaf 1-Ounce Gold Coin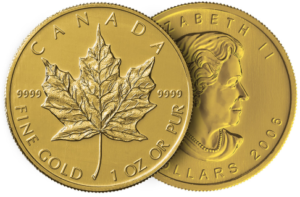 The Canadian Maple Leaf is the official investment coin series of the Royal Canadian Mint.  It is one of the world's most popular coin programs. The Gold Maple Leaf 1 oz coin was introduced for the first time in 1979.  These were the first coins in the world to compete with the South African Krugerrand in terms of demand for gold bullion. Apart from the Krugerrand, no other gold coin had been offered for investment purposes prior to 1979. On the front of all Canadian maple leaves, whether in silver, gold, platinum or palladium, the portrait of Queen Elizabeth II is depicted. Three different incarnations of Her Majesty's profile have been depicted since 1979. The back of all Canadian maple leaf coins features the image of the sugar maple leaf. This image has never changed since the introduction of the Gold version in 1979. The only changes were security measures, including radial lines and micro-engraving feature.
The Canadian Maple Leaf 1 oz coin is an outstanding achievement of the Royal Canadian Mint.  From its first release, it has been and remains the 24-karat standard against which all other one-ounce gold coins are measured. The Canadian Maple Leaf, is known for its purity as is the most popular gold coin sold outside the United States.  It has a legal tender value of $ 50 supported by the Royal Canadian Mint. The Maple Leaf's only competition for many years had been the Krugerrand. Austria did not coin its Philharmonic God Coin until 1989.
The United States Mint did not produce its American Buffalo until 2006. The Canadian Mint has been producing these coins since 1979 and many investors continue to favor them.  Gold coins made from 1979 to 1982 carry three nines – .999 purity.  From 1883 to the present, the Maple Leaf is minted at four nines – .9999 purity. In 2004, the Royal Canadian Mint produced 24,000 coins at five nines purity- .99999 fine for its 25th anniversary.
The golden maple leaf is considered the purest bullion in the world and each coin is provided with the purity guarantee of 0.9999 and "1 OZ OR PUR". Also during the gold crisis, when some of the other mints cut their gold coin production, Canada maintained its production level and made sure its coins were available. At that time, there was no doubt that the coin won investor loyalty.  It has kept a loyal following ever since with the highest standards of quality and value assurance.
In 2013, the Royal Canadian Mint added an additional safety measure to include a date in the micro-engraved maple leaf.  This engraving contains the last two digits of the date on the front of the coin. For 2015, there is a "15" in the maple leaf insignia on the back. In addition, the coin has processed a radial line background on the master cube to produce a "unique diffraction pattern". The coin also features a "Bullion DNA" device that recognizes and authenticates each embossed coin based on its unique engraving.
At .9999 purity, gold is soft.  These are delicate coins with sharp edges and smooth sides that are easily worn and scratched. Currently you can buy Gold 1 ounce coins for 3% over spot for 20 or more coins. For single coins, the price above the spot is 4-5%. Older coins with a purity of 0.999 (prior to 1983) are slightly lower, while 25th anniversary coins can show a $ 100 mark-up over the spot price of gold. Within Canada, these coins are tax-free.  In the United States, transactions of less than 25 coins do not require declaration for tax purposes.
South African Krugerrand 1-Ounce Gold Coin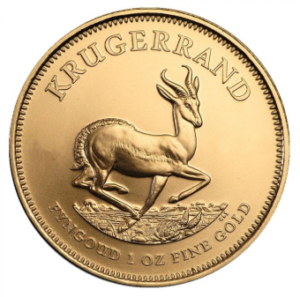 The South African Krugerrand 1 oz gold coin has a complex history. The coins debuted in 1967 as a means for the South African government to directly promote the nation's vast reserves of gold, precious metals and gems. The Gold Krugerrand was the first modern gold bullion coin available for private investment. The coin debuted as a 1-ounce specimen with 22-carat gold content. Although the Gold Krugerrand proved extremely popular initially, its availability in the 1970s suffered from the economic sanctions of the West.  At that time in its history, South Africa was governed by a white minority government.  The land-based system of apartheid prevented the native black population from rising in economic stature.  This prevented the black majority population from gaining control of the country and representing itself appropriately in the government. Western governments adopted a strong boycott of South African goods in an attempt to break the apartheid system with economic measures.
Regardless of the sanctions, the Gold Krugerrand continued to find its way out of South Africa and into the hands of North American and European buyers.  The bigger impact came from the introduction of other gold coins that Westerners could more easily buy. From 1967 to 1979, the Gold Krugerrand was the only option in the world to buy gold bullion coins. Between 1979 and 1989, the Canadian gold maple leaf, the Chinese gold panda, the American golden eagle, the British gold Britannia and the Austrian Gold Philharmonic came on the market as further options for gold buyers.
The Krugerrand, is popular outside of the USA.  It is usually one of the cheapest gold coins and a good choice for beginner investors.  The coin is immediately recognizable with its springbok antelope. Some complain that it is not as detailed or magnificent as other more elaborate gold coins.  However, it has been around since 1967 and remains an accessible, sustainable investment. Investors have purchased more Krugerrands than all the other 1 ounce gold coins combined. At 22 karat, the Krugerrand contains 8.33% copper to stabilize its one ounce of gold and make it durable and wear resistant. Each coin is marked "FYNGOUD 1 OZ FINE GOLD". The krugerrand value is directly equivalent to the dollar exchange rate and the current dollar gold price.  This makes the valuation relatively easy to determne. In 1980, Krugerrands was also available in 1/2, 1/4 and 1/10 ounce sizes.
Prices for Krugerrands are only 1-2% over the gold spot price when purchasing 20 or more coins. If you want to buy less than 10, add another 1% to this number. Krugerrands are released as uncirculated bullion coins and proof strikes.  Proof strikes are much harder to come by and can run $ 500 to $ 700 over the gold spot price. Proof coins differ from bullion coins.  Bullion coins have 160 edged teeth, while proof coins have 220. A word of caution is in order – Krugerrand is one of the most common gold coins to counterfeit. In the past, counterfeiters have coated carbon-tungsten cores with a gold-copper alloy. Only buy from reputable dealers.
21 Tips for Buying Gold – How to Buy Gold Coins for Investment: Complete Checklist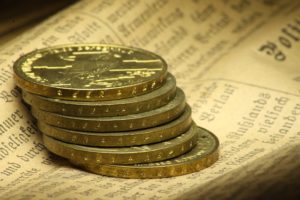 Are you looking for a long-term investment or just something safe?  Something that you can sell quickly in the event of an economic crisis?  Investing in gold is a proven way to protect wealth and diversify a portfolio of stocks and bonds.  But, what type of gold should you invest in?   What do you do when you're ready to buy gold?  How can you avoid getting scammed?