Gold and Silver IRA – Self Directed Precious Metals IRA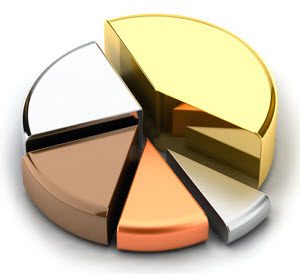 A Gold and Silver IRA or Self Directed Precious Metals IRA is an Individual Retirement Account that allows an individual to hold hard, physical assets in their retirement portfolios.  This includes physical gold and other approved precious metals.   They are held in trust or custody for the benefit of the IRA account owner. They function the same as a regular IRA.  But, instead of holding just paper assets, they hold physical bullion coins or bars.  These IRAs are called "self-directed" or "alternative-asset" IRAs.  The tax code provides rules and guidelines that must be followed to qualify for tax deferred status.
Gold IRA Investing Guidelines
A self directed, alternative asset IRA must be established with an IRS approved trust company or custodian.  Once properly established, you can simply advise your custodian to purchase approved gold coins, bullion and other precious metals on your behalf.  Self directed means YOU are responsible to manage your own Gold IRA investing strategies.  Self-directed IRAs allow investors to make their own investment decisions.  They also expand the available investment options, to include precious metals.  They are not limited to traditional asset classes like stocks and bonds.  Individuals can invest in physical gold, silver, platinum, and palladium coins and bars.  These alternative assets, however, must meet established IRS standards and guidelines.
Physical Gold IRA Limitations
Not all precious metals are allowed. The tax code names specific gold, silver and platinum coins that qualify.  The Canadian Maple Leaf or American Gold Eagle, for example, are allowed.  The IRS further defines purity standards for gold, silver, platinum or palladium bars and bullion. Coins not specifically named and jewelry items are forbidden.
Gold and silver coins minted by the USA – U.S. government has stipulated that all bullion coins invested in gold IRA accounts must be ninety nine percent pure or higher.
Certain platinum coins minted in the USA – These must also be ninety nine percent pure or higher
Coins minted by a US State – Once again, they must meet be ninety nine percent pure or higher to qualify
Gold, silver, platinum or palladium bullion – Minimum purity standards apply for bullion – typically .995 or higher
Only government issued coins are allowed (no "private mint" coins) – 

Foreign coins meeting the bullion standard include Gold Maple Leafs, Kangaroo Nuggets, Philharmonikers and Perth Mint's Lunar Series
Home Storage IRA or Home Delivery Gold IRA
The tax code permits special "self-directed" or "alternative-asset" IRAs to hold physical silver or gold under very specific controls and conditions. The tax code clearly states the gold, silver, platinum or palladium coins, bars and bullion must be of certain purity standards AND be held by an IRS-approved custodian or trustee.  Be very careful dealing with any custodian that claims they can establish a self held gold IRA.  US tax code does not allow you to hold your precious metals at home as part of an IRA.  You could be facing significant penalties and interest payments to the IRS in the event of an audit.
The rules set by the IRS also state that you cannot buy gold directly for your IRA.  The custodian must handle all transactions.  You must give your Gold IRA Investing  instructions to your custodian regarding the gold or precious metals you want to purchase.  The trustee will then purchase the metals, invoice you, and ship the purchases to an approved depository.
Gold IRA Rollover – Gold 401k Rollover
Converting a traditional IRA or 401k to a Gold IRA retirement plan requires a transfer or a rollover to a self directed IRA.  The law allows for rollovers from qualified retirement plans and annuities. The addition of physical gold, silver and/or other precious metals will require annual fees for storage, insurance and management.  These fees average about $200-$250/year.  A brand new gold IRA would need a few years to accumulate a large enough value to justify the yearly fees for storage and management.  Therefore, most Gold Silver IRA and Precious Metal IRA accounts are rollovers or transfers from conventional, paper asset IRA or 401k accounts.
Gold IRA Rollover vs Transfer
Most investors use the term rollover and transfer interchangeably.  Both terms refer to the movement of funds from one retirement account to another.  However, there is a clear distinction between a rollover and a transfer. In a funds transfer, the original IRA manager simply transfers the funds directly to the new IRA custodian you appoint to manage your self-directed IRA. Even though you are the account owner, you never see the money. In a rollover, however, the money being moved is paid directly to you.  You then, have 60 days to set up a self directed, alternative asset IRA and deposit the funds to the new custodian account.
Gold and Silver IRA, Gold Silver IRA…
Conventional IRAs are primarily intended for paper assets, such as mutual funds, stocks and bonds.  A self directed alternative asset IRA allows an investor to physically hold four precious metals – gold, silver, platinum and palladium.  They must be IRS-approved coins, or minimum purity bar or bullion. Since gold is the most commonly purchased of the four, the term "gold IRA" is used most often to mean a retirement account containing any combination of precious metals.   The terms Gold IRA, Precious Metals IRA, Gold Silver IRA, Gold and Silver IRA all refer to the same thing: a self-directed, alternative asset Individual Retirement Account.
401k to Gold IRA Rollover – Physical Gold in Your IRA
For more information check out:  401k to Gold IRA Rollover – How to put Physical Gold in your IRA
Do you currently have a traditional 401k retirement account or investment portfolio with paper assets like stocks, bonds, or cash?  Are you looking to convert a part of it to gold or precious metal bullion coins or bars?  If the answer is "yes", you should consider a 401k to gold IRA Rollover…
Gold Mining Stocks to Buy Now
Are you interested in gold paper assets like quality gold mining stocks?  Check out Gold Mining Stocks to Buy Now…
Click this link to check out Penny Stocks to Buy Now…