Stocks to Buy Now? Gold Mining Shares May be Good Stocks to Buy Now…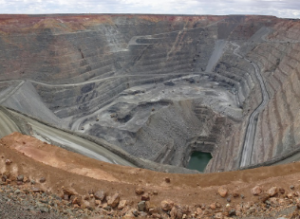 Investing in gold bullion and gold mining companies are often used together as complementary investments. The gold mining sector is large with over 300 mining companies listed and publicly traded. Market values range from junior, micro-cap companies to large global mining operations with market capitalization exceeding US$10 billion. There are several reasons an investor might consider gold mining issues to be good stocks to buy now. These reasons include reduced supply with increasing demand, global trade tensions, and an increasing rate of inflation:
A Declining Supply – Mining companies have been streamlining their operations and divesting themselves of less-productive assets.
Sustained Demand from China and India – These two countries together account for approximately half of total global demand.
Inflation and a Declining Dollar – Gold has always been a hedge against inflationary conditions.
Gold Mining Stocks – Cheap Stocks to Buy…
The price of gold has rallied over the last 3 months, while stocks and the dollar have weakened. The recent strength looks likely to continue.  This should certainly benefit well-run mining companies that have slashed costs, lowered debt and boosted productivity. According to data compiled by Bloomberg Intelligence, average mining costs now average $934 per ounce in the second quarter of 2018.  This is down over 20% from average costs of $1,199 in the second quarter of 2013. The costs are still lower than the current gold price, boosting the potential for profitability. Yet buyers haven't been swayed. Gold-mining stocks have taken a beating, but the tide may be turning…
Gold Stocks To Buy Now…
Best Stocks to Buy Now – Barrick Gold Corporation (ABX)
Barrick Gold Corporation (Barrick), is a gold mining company. The Company explores, develops, produces and sells gold and copper.  The Company has nine producing gold mines, located in Canada, the United States, Peru, Argentina, Australia and the Dominican Republic. It also holds an interest in a producing mine in Papua New Guinea. Its copper business includes a mine in Zambia, as well as copper mines in Chile and Saudi Arabia.
Barrick is a mining sector leader in sheer size and consolidated operating costs. Company guidance calls for costs of just $765 to $815 per ounce for 2018. The stock is down more than 13% so far this year, but has been on the rise since early September. Given its low costs and solid production, Barrick could be a good medium-term investment, especially if it can continue to slash debt from its balance sheet.
Top Stocks to Buy – Royal Gold, Inc. (RGLD)
Royal Gold, Inc., acquires and manages precious metal revenue streams, royalties and similar interests. The Company operates through two segments: Acquisition and Management of Stream Interests, and Acquisition and Management of Royalty Interests.  Royal Gold is not a traditional mining company.  They do not invest in costly equipment and operations to extract metal from the ground. The Company makes its money through royalty and streaming agreements with other heavy earth movers. As a result, this low-cost business model allows Royal to generate significant free cash flow.  The company was able to convert about 60% of its revenue into cash flow in the first three quarters of fiscal 2017.
Royal Gold has been putting up very strong financial numbers despite weak gold prices. In fiscal 2018, which ended in June, the company reported record revenue, cash flow, and gold equivalent ounce production. Although gold prices have been weak, the company has a solid outlook for 2019.  Investments in three mine projects are expected to start adding to revenue mid-year.  These are sunk costs that have already been made, so there's no new cash outlay. Solid cash flow allows Royal Gold to pay down debt.   This leaves the Company better prepared to provide funding for new investments going forward. Debt fell by a huge 40% in fiscal 2018. Less debt means lower interest costs. Royal Gold is in a good position as it heads into 2019 even if gold prices remain weak
Good Stocks to Buy – Franco-Nevada Corporation (FNV)
Franco-Nevada Corporation (Franco-Nevada) is a royalty and revenue streaming company. The Company has interests in silver, platinum group metals, oil and gas and other resource assets. The Company is engaged in resource sector royalty/stream acquisitions and management activities. It has a portfolio of properties in the United States, Canada, Mexico, Peru, Chile and Africa.
This is another streaming and royalty company, but with a more diversified portfolio. It used the recent energy downturn to invest in 82 oil and gas projects.  The company has taken advantage of what it views as positive market conditions to jump into the oil and gas fields.  However, Franco-Nevada plans to retain its focus on metals, with the long-term goal of generating 80% of revenue from precious metals including gold, silver and platinum group metals.
Franco-Nevada has no long-term debt on its balance sheet, so it, too, is in a very strong financial position. And with growth on the energy side expected to continue, it looks like this streamer can easily handle gold price weakness.
Best Stocks to Buy Right Now – Wheaton Precious Metals (WPM)
Wheaton is laser-focused on investing in a small number of large mines. When the company first started, it was almost exclusively focused on silver. Now, however, it has been adding gold to the mix. Today, there is an even split between gold and siver. However, gold is only one piece of the equation. Wheaton has entered into two new streaming deals, adding palladium and, eventually, cobalt into the revenue stream. These 2 new deals, however, are not expected to affect free cash flow until 2021.  The company is projecting flat gold production and lower silver production, but this is something of a transition period for Wheaton.  The company expects to see growth in gold and silver production over the next five years as current investments pay off along with ramping up the two additional metals.
Hot Stocks to Buy – Newmont Mining Corp (NEM)
Newmont Mining Corporation, is focused on finding and extracting gold and copper. The Company is primarily a gold producer with operations in the United States, Australia, Peru, Ghana and Suriname. The Company's segments include North America, South America, Asia Pacific and Africa. As of 2018, the company had proven and probable gold reserves of 68.5 million ounces and an aggregate land position of approximately 23,000 square miles.
Best Stocks to Buy – Goldcorp Inc (GG)
Goldcorp explores, acquires, develops, and operates precious metal properties in Canada, the United States, Mexico, and Central and South America.
The Company's principal producing properties consist of the Eleonore, Musselwhite, Porcupine and Red Lake mines in Canada; the Penasquito mine in Mexico; the Cerro Negro mine in Argentina, and the Pueblo Viejo mine in the Dominican Republic. The Company's principal product is gold dore with the refined gold bullion sold primarily in the London spot market.
Stocks To Buy Now – Gold Penny Stocks
Interested in gold stocks but want something more affordable?  Check out Gold Penny Stocks to Buy Now…